Hello everyone!
Bonjour!


Michi no Eki Aso is part of the Japan Hands-Free Travel program of the Japan National Tourism Organisation (JNTO) and today, I will introduce you to our luggage storage service and delivery service via the table below.
Michi no Eki Aso fait parti du programme Hands-Free Travel de la Japan National Tourism Organisation (JNTO). Laissez moi donc vous présenter notre service de consigne a bagages ainsi que notre service de livraison grâce au tableau ci-dessous.
【Luggagestorage service】
Price

540 yen per luggage (tax included)

Items that cannot be shipped

Valuables, credit cards, pets, documents that cannot be reissued (passports etc.), Hazardous materials (poisons, explosives, firework etc.)

Important point

We cannot keep your luggage overnight.

Please come pick them back before closing time
【Deliveryservice (Within Japan)】
You can send your luggage toyour next accommodation.
※only within Japan
※no same-day delivery
【Service deconsigne à bagages】
Prix

540 yens par bagage (taxes comprises)

Ne peut être envoyé

Objets de valeur, cartes de crédit, animaux de compagnie, documents importants (passeports etc.), matériaux dangereux (poisons, explosifs etc.)

Important

Nous ne pouvons garder vos bagages en dehors de nos horaires d'ouverture.

Nous vous prions donc de bien vouloir les récupérer avant dix-huit heures.
【Service de livraison (Limité au Japon)】
Il vous estpossible d'envoyerdirectement vos bagages à votre prochain hôtel.
※Limité au Japon
※pas de livraison le jour même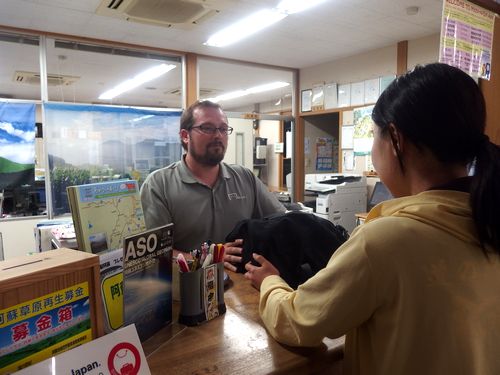 Finally, I just want to remind you that Michi no Eki Aso is situated only a few meters away from Aso station. We are open every day from 9:00 to 18:00, 365 days a year. If you have any questions, please use the comments on this blog or send us a message on our English Facebook page. See you soon in Aso!
Finalement, je tiens juste à vous rappeler que Michi no Eki Aso est situé à quelques mètres seulement de la gare d'Aso. Nous sommes ouverts de 9 heures à 18 heures tous les jours de l'année. Si vous avez des questions, n'hésitez pas a utiliser les commentaires sur ce blog ou à nous envoyer un message sur notre page Facebook. A bientôt sur Aso!

タグ :