Hello everyone !
Bonjour à tous !
Today I will introduce you to some good plans to save money while traveling in the area.
Aujourd'hui je vais vous parler des bons plans pour faire des économies pendant que vous êtes dans la région.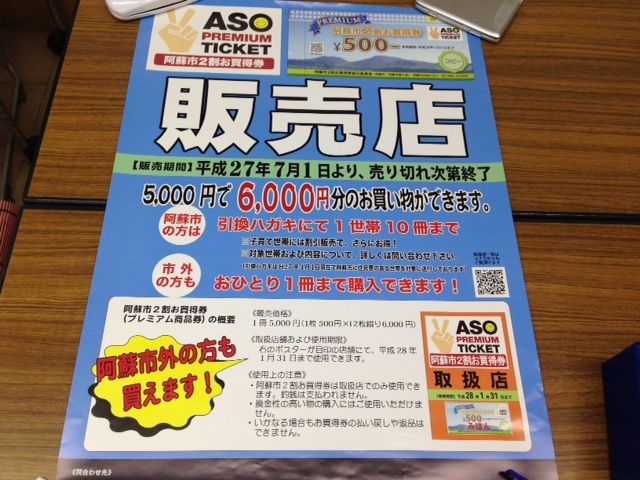 First the Aso city 20% discount campaign will start tomorrow and is open to everyone, even foreigners tourists ! So How does it work ? You can buy twelve 500\ tickets for 5 000\ instead of 6 000\ in one of the ten places that sell them. You can also buy these tickets directly here at Michi No Eki Aso. There is more than 200 establishments that accept payments with these discount tickets including restaurants, rental services, super markets and so on. The list of the establishments is also available. The campaign is available until the 31 January next year or when all the tickets will be sold. Just be careful because you won't receive change for the tickets.
Tout d'abord la campagne 20% de réductions de la ville d'Aso débute demain et est ouverte à tous même si vous êtes un touriste étranger ! Vous pouvez acheter un pack de douze tickets d'une valeur de 500\ pour 5 000\ au lieu de 6 000\ dans l'un des dix endroits de la ville qui les propose. Vous pouvez d'ailleurs vous procurer ces tickets ici même à Michi No Eki Aso. Il y a plus de 200 établissement dans toute la ville d'aso qui participent àl'opération dont des restaurants, des services de locations, des supermarché... La liste des établissement est également disponible. La campagne se terminera le 31 janvier de l'année prochaine ou quand les tickets seront tous vendus. Faites attention car on ne rend pas la monnaie sur les tickets.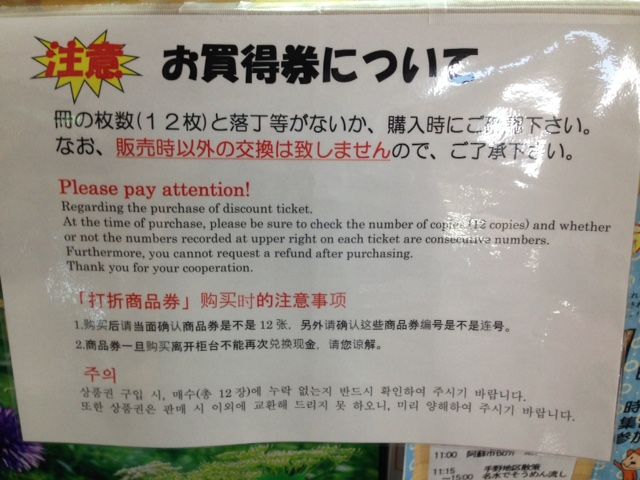 Another good thing to know, especially in the middle of the rainy season, is that cuddly dominion, the famous zoo of Aso, is offering discount when it rains and this until the 17 July. Just check at the entrance and if you see a little green frog with an umbrella, the discount applies. Instead of 2 400\ by adults you'll only have to pay 2 000\ !
Autre bon plan, surtout en pleine saison des pluies, le zoo cuddly dominion offre des réductions pour les jours de pluies (offre valable jusqu'au 17 juillet). Vérifiez juste à l'entrée si vous voyez une petite grenouille verte avec un parapluie, alors le réduction s'applique. Au lieu de 2 400\ par adulte il ne vous en coutera que 2 000\ !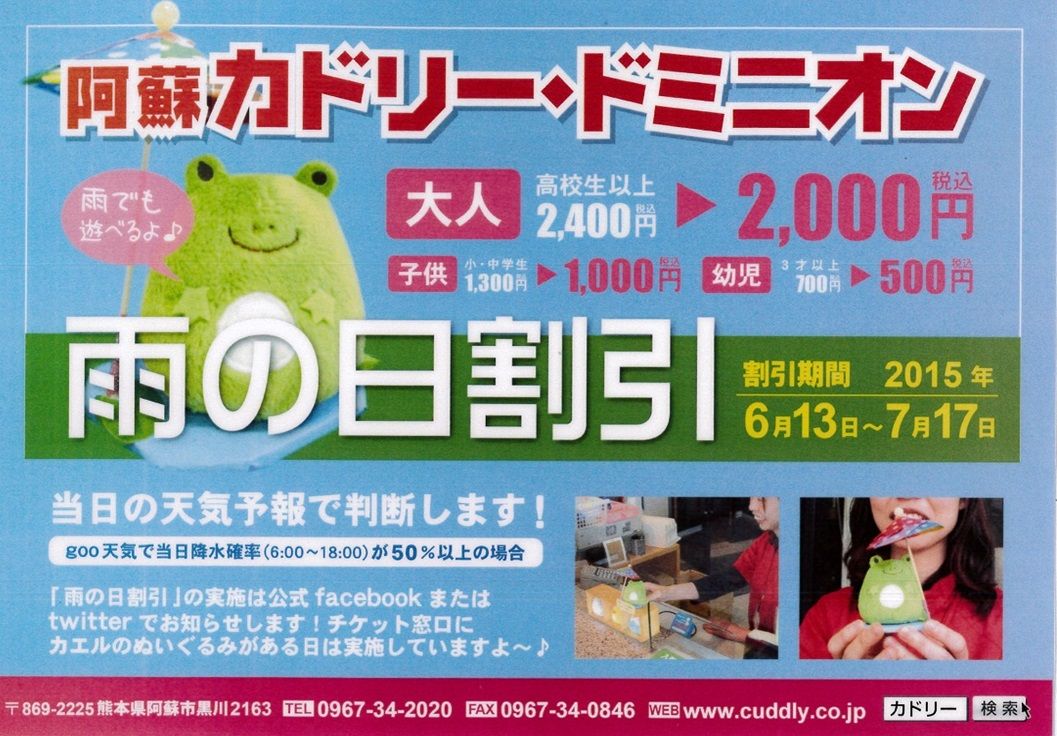 タグ :