Hello everyone !
Bonjour !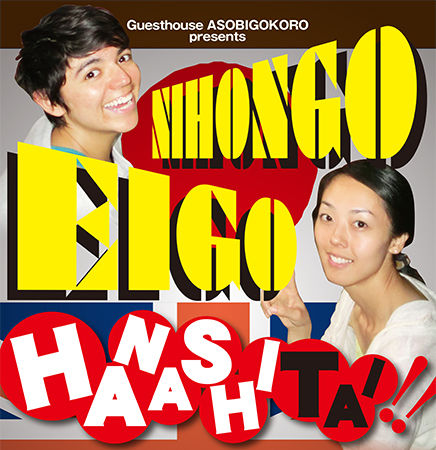 Thursday, 10th March, the guesthouse Asobigokoro is holding a special event in Aso. This is a cultural exchange event were Japanese and foreigners can meet each other and communicate. The main goal is for Japanese to practice their English and for foreigners to practice Japanese.
When I first came in Japan in 2009 as a tourist I really enjoyed my trip through the country but I was a little disappointed because meeting Japanese and exchange with them wasn't an easy task. I wish there was this kind of event cause I would have definitely participated. Anyway this is a good opportunity for everyone in the area around this date to have a chance to bond with locals.
La guesthouse Asobigokoro organise une soirée spéciale à Aso, le jeudi 10 mars. Il s'agit d'une sorte de soirée d'échange linguistique où japonais et étrangers de tous horizons peuvent se rencontrer et communiquer. Le but est pour les japonais de pratiquer leur anglais et pour les étrangers leur japonais.
Lorsque je suis venu pour la première fois au Japon en 2009 en tant que touriste, j'ai vraiment apprécié mon séjour. Mon seul regret est de ne pas avoir eu l'occasion de faire la rencontre avec de japonais avec qui passer un peu de temps. Si seulement il y avait eu ce genre de soirée mon séjour aurait alors été parfait. Quoiqu'il en soit ce peut être une bonne opportunité de recontrer des locaux si vous vous trouvez dans la région.
タグ :