Hello everyone !
Bonjour !
Yesterday I went back around Aso shrine, a little before five, to be able to see the cortege coming back to Aso Shrine. When I arrived they were all at the shopping street waiting to pursue. I also realized that many food stalls were now bordering the street.
But soon the parade started to move again towards Aso Shrine. I thought they were gonna take the same path they use this morning, but instead they had to climb the stairs leading to a massive gate. You can imagine the exercise wasn't so easy for the ones wearing the Mikoshi, these portable shrines. Once inside the Shrine's ground the cortege went inside a zone where the public isn't allowed, surrounded by the collapsed buildings of Aso Shrine. There, the women dressed in white placed the boxes they were wearing over their head at a designated spot. I thought this was the end but then they all gathered in the middle the public forming a circle. Rice plant were distributed to everyone and the men wearing the Mikoshi ran around this circle. Everyone then just throw their rice plant hoping it to land and stay on the moving Mikoshi. Everyone was just having fun. Finally, they put the Mikoshi back in the building where they was this morning and songs could be heard from the outside.
It was a really nice event at Aso Shrine Yesterday. I'm also impressed by the fact that they manage to organize this festival despite being badly affected by the earthquake. It will take years before the complete restoration of the shrine but we can still hope to spend memorable times there until then.
Hier soir, un peu avant cinq heures, je suis retourné aux alentours du sanctuaire d'Aso afin d'assister au retour du cortège. A mon arrivée celui-ci était à l'arrêt dans la rue commerçante. Je remarquais aussi que de nombreux stand de nourriture avait fait leur apparition.
Mais il ne fallut pas longtemps avant que la parade ne reprenne en direction du sanctuaire. Je pensais qu'ils allaient prendre le même chemin que celui emprunté dans la matinée mais ils ont commencé à monter les marches menant vers une imposante porte. Vous pouvez imaginer que ce ne fut pas facile pour ceux transportants les Mikoshi, ces sortes de sanctuaires portables. Une fois dans l'enceinte du sanctuaire, le cortège se dirigea vers une zone encore interdite au public et située au milieu des bâtiments effondrés. C'est alors que ces femmes toutes vêtues de blanc, déposèrent ces étranges boîtes qu'elles portaient au dessus de leur tête. Je pensais qu'il s'agissait de la fin du festival mais c'est alors que les membres de la parades se regroupèrent au milieu des spectateurs pour former un cercle compact. Des plants de riz furent distribués à tous et les hommes portant les Mikoshi se mirent à courrir autour de ce cercle. Le but était de lancer les plants de riz afin qu'ils aterrissent sur le mikoshi. L'occasion pour tous de prendre du bon temps. Finalement, les Mikoshi furent remis à leur place d'origine accompagné de chants.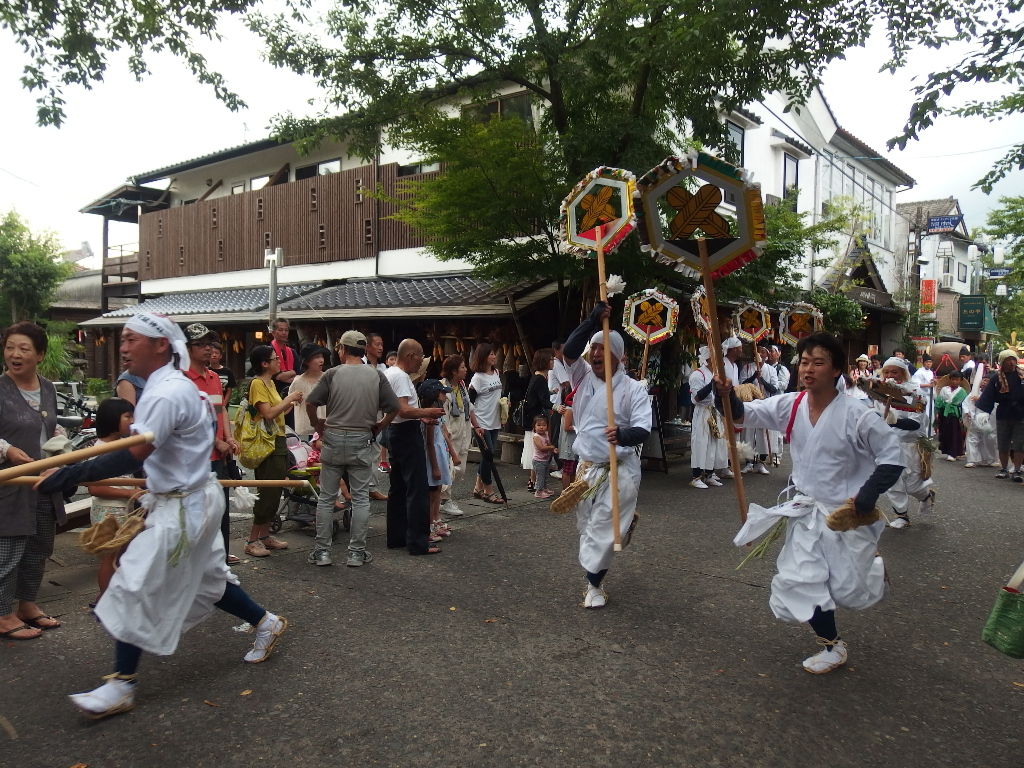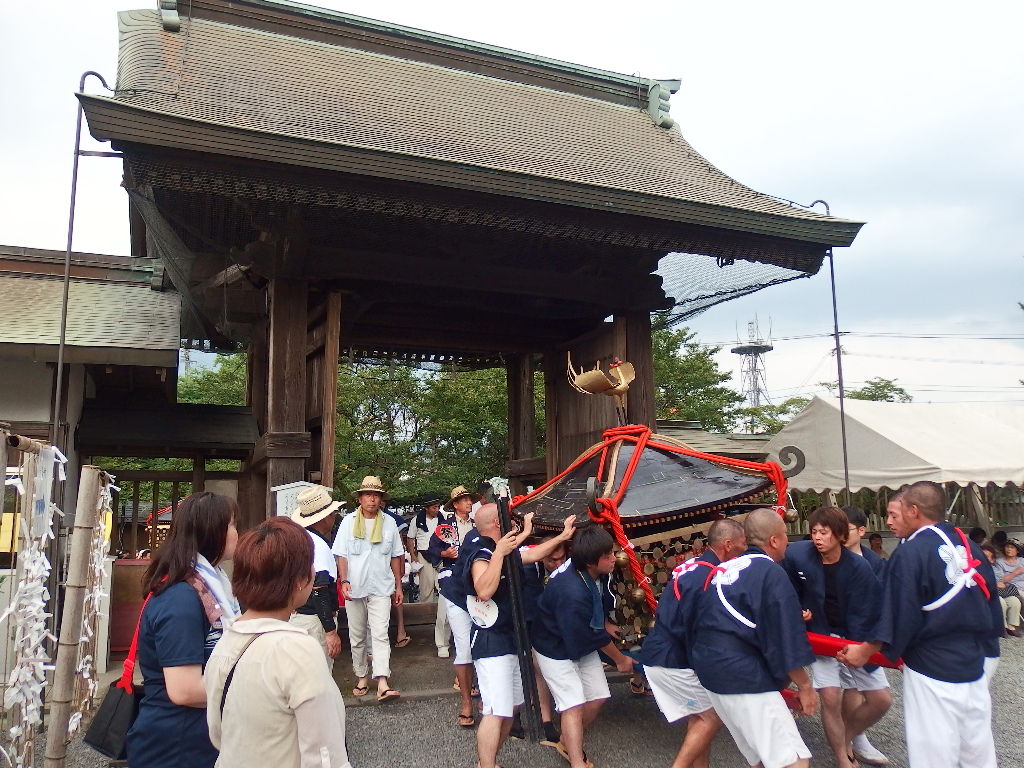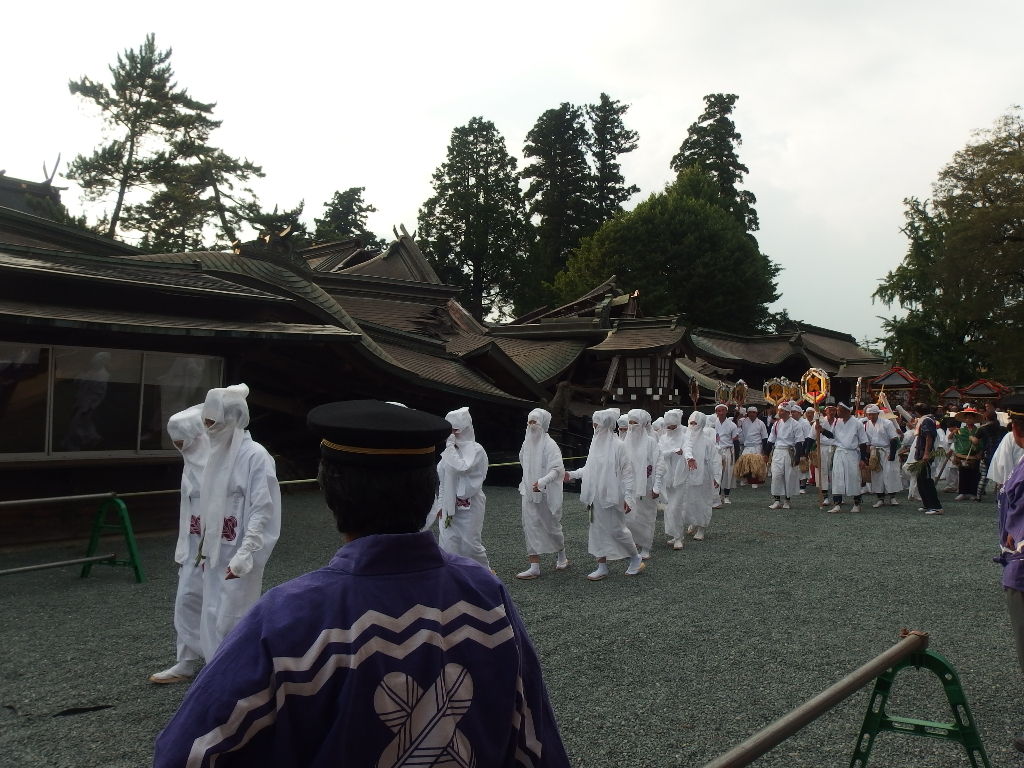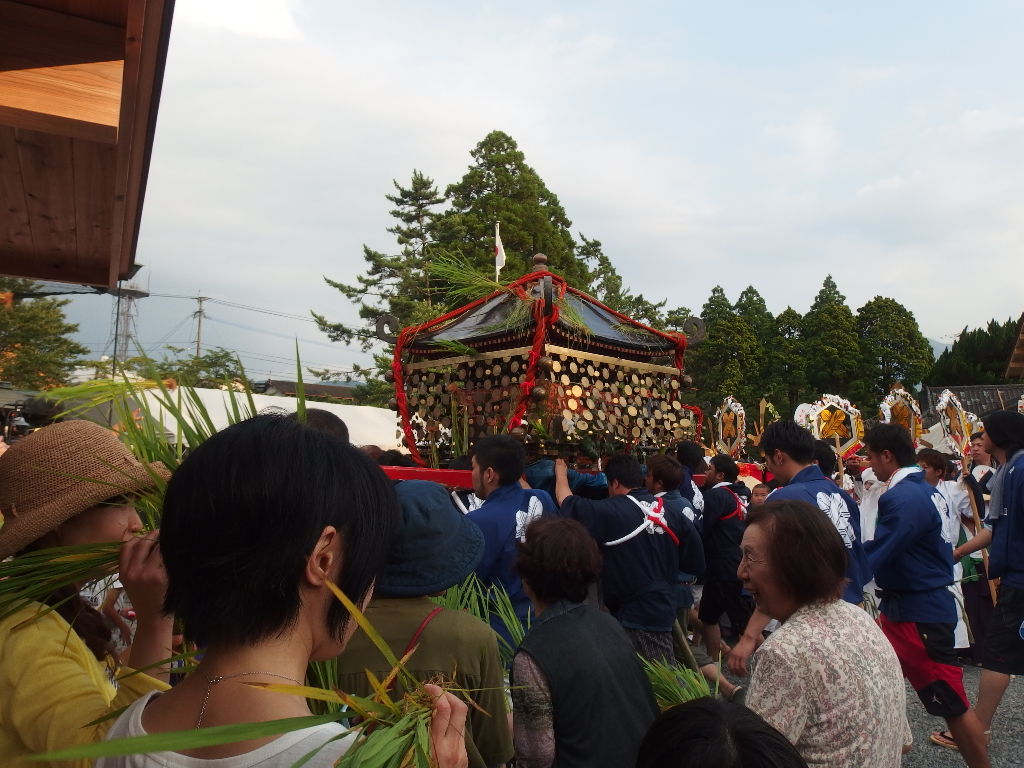 タグ :