Hello everyone !
Bonjour !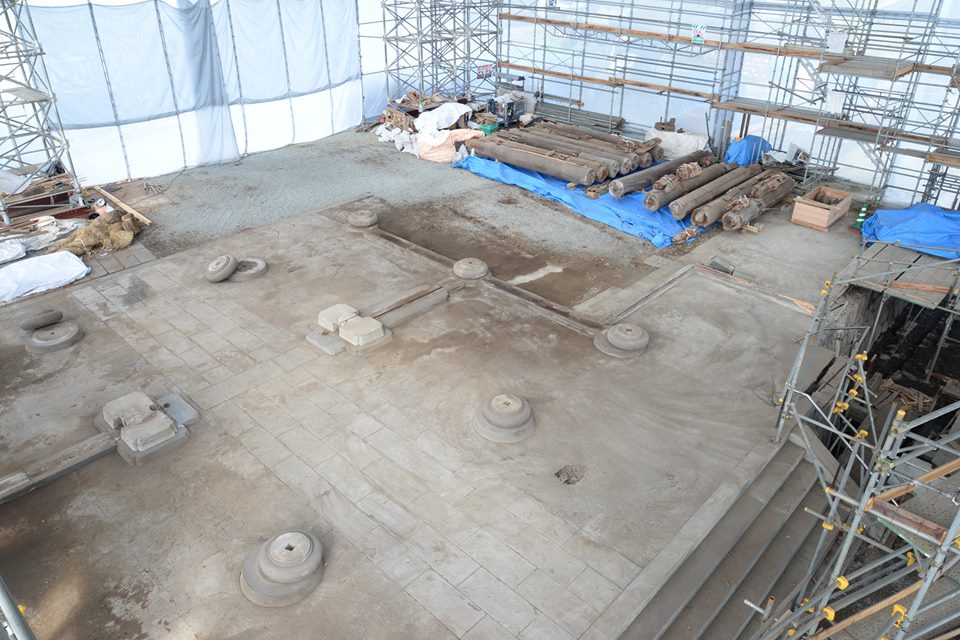 Aso Shrine's famous Romon gate was built about 160 years ago. It is classified as an important cultural property of Japan and is one of the symbol of Aso. Unfortunately, it collapse during the Kumamoto earthquake in April last year. At this time it was a shock for everyone and especially for the people living in Ichinomiya area, where the shrine is located. Since this is the only building that collapsed in the area it is said that the Shrine took all the damages in order to protect the inhabitants.
La fameuse porte Romon du sanctuaire d'Aso fut construite il y a environ 160 ans. Elle est classée en tant bien culturel d'importance par l'état japonais. Malheureusement elle s'est effondrée durant le tremblement de terre de Kumamoto au mois d'avril de l'année dernière. Ce fut un choc pour tous ici et plus particulièrement pour les résidents du quartier de Ichinomiya où se trouve le sanctuaire. Comme il s'agissait du seul bâtiment à s'être effondré dans les alentours, il est dit que le sanctuaire a prit tous les dégâts sur lui afin de protéger les habitants.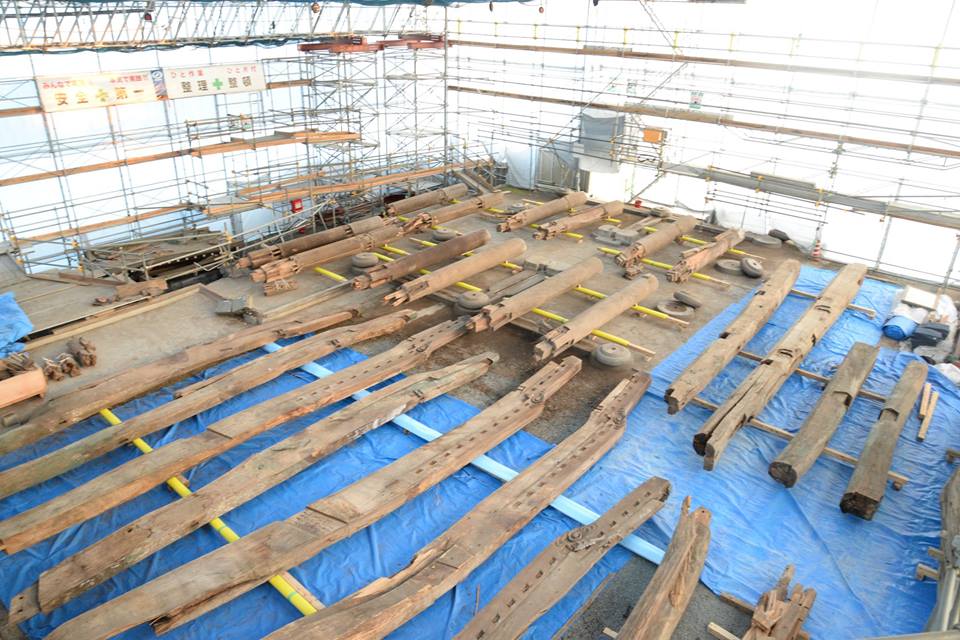 More than a year and a half after the earthquake, the dismantling of the Romon gate called Sakuramon is finally complete. As you can see on the pictures (taken from Aso Shrine Facebook page), there is nothing left except some pillars lying on the ground where the gate stood. The next challenge is now to rebuild the gate while conserving as much as possible the original materials. This a long and hard work, which is planned to be complete around 2022. It is a very long time away from now but I can't wait to see the gate standing again.
Plus d'un an et demi après le tremblement de terre, le démantèlement de la porte Romon aussi appelée Sakuramon est finalement arriver à son terme. Comme vous pouvez le constater sur les photos (provenant de la page Facebook du sanctuaire d'Aso), il ne reste plus rien à part des piliers gisant sur le sol où se trouvait la porte. Le prochain challenge est maintenant de reconstruire cette porte tout en essayant de conserver au maximum les matériaux d'origine. Un travail de longue haleine qui devrait prendre fin selon les estimations en 2022. Une longue attente donc mais il me tarde de voir cette porte à nouveau trôner devant le sanctuaire.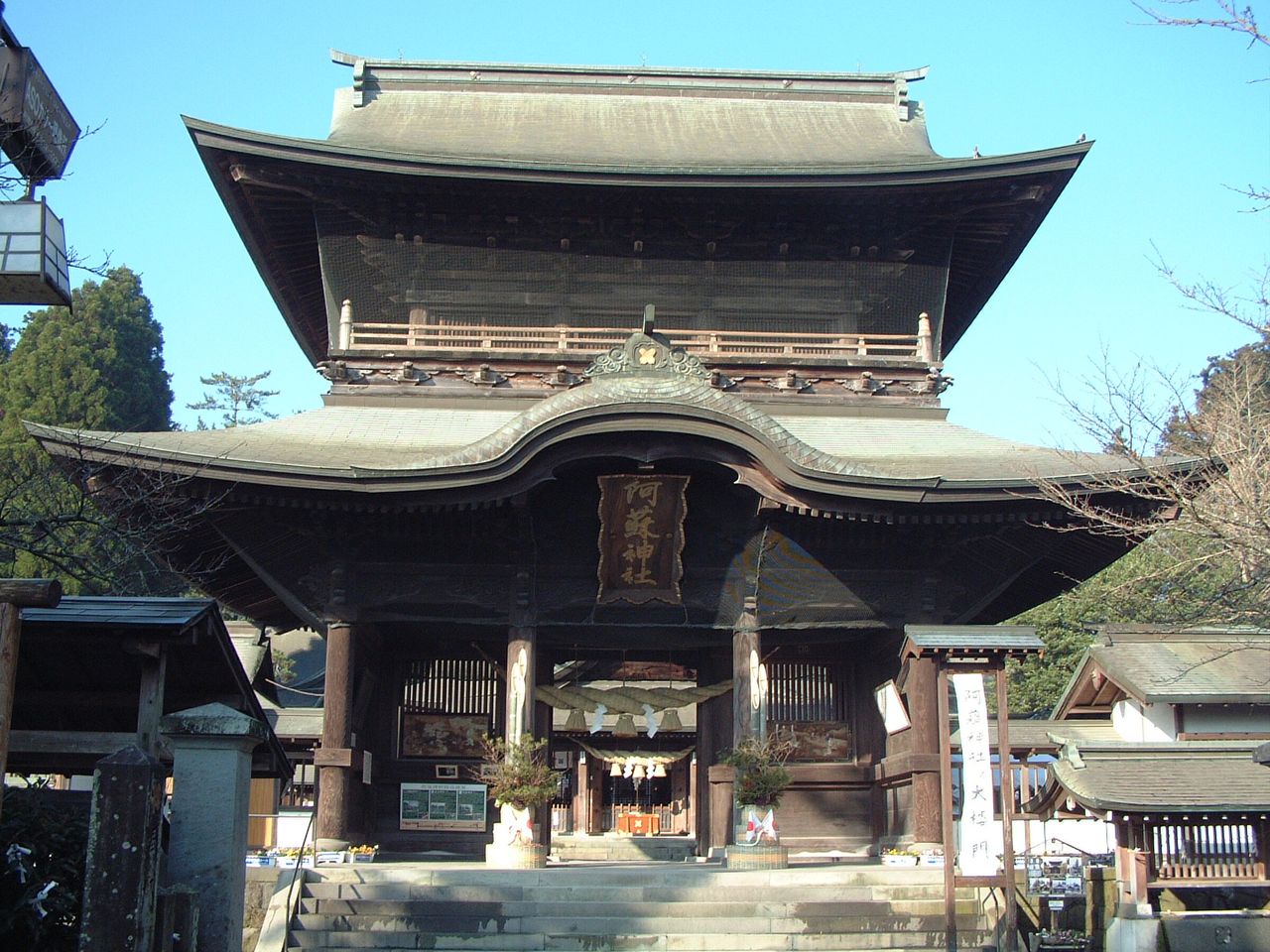 The gate before the earthquake/La porte avant le tremblement de terre
Aso shrine is still collecting money for the reconstruction of the main hall that wasn't classified as an important cultural property, meaning that the government won't give any financial support. You can go see the Shrine website for more information on donation or just concerning the shrine history. RKK news made a tv report about the dismantling accessible via the following link:
https://headlines.yahoo.co.jp/hl?a=20171122-00000005-rkkv-l43
(only in Japanese). See you soon in Aso!
Le sanctuaire collecte toujours des fonds pour la reconstruction du hall principal. N'étant pas classé bien culturel d'importance aucun soutien financier du gouvernement n'est à attendre. Vous pouvez visiter le site du sanctuaire pour en savoir plus sur les donations ou simplement pour en apprendre davantage sur l'histoire même du sanctuaire d'Aso. Le journal de la RKK a réalisé un reportage sur le démantèlement de la porte Romon que vous pouvez visualiser via le lien suivant:
https://headlines.yahoo.co.jp/hl?a=20171122-00000005-rkkv-l43
(uniquement en japonais). A bientôt sur Aso!

タグ :