Hello everyone !
Bonjour !
Today we had the visit of Peter Barakan, a well known figure on Japanese television. You may know him for his for one of his TV program in English on NHK world. Before coming to Japan, I used to watch Begin Japanology for example and that's why I was so surprised to see him for real today. These emissions were always the occasion to learn many things about Japan and for someone with an interest in Japanese culture like me, it was a no miss program.
Aujourd'hui nous avons eu la visite de Peter Barakan, un nom bien connu du petit écran au Japon. Vous le connaissez peut être pour une de ses émissions sur la chaîne de télévision NHK world. J'avais pour habitude de regarder ses programmes comme Begin Japanology quand j'étais encore en France et ca m'a fait bizarre de pouvoir enfin le rencontrer en vrai. Ses émissions ont toujours étées l'occasion d'apprendre beaucoup de choses sur le Japon, ce qui, pour quelqu'un qui s'intéresse à la culture japonaise comme moi, en faisait des rendez vous à ne pas rater.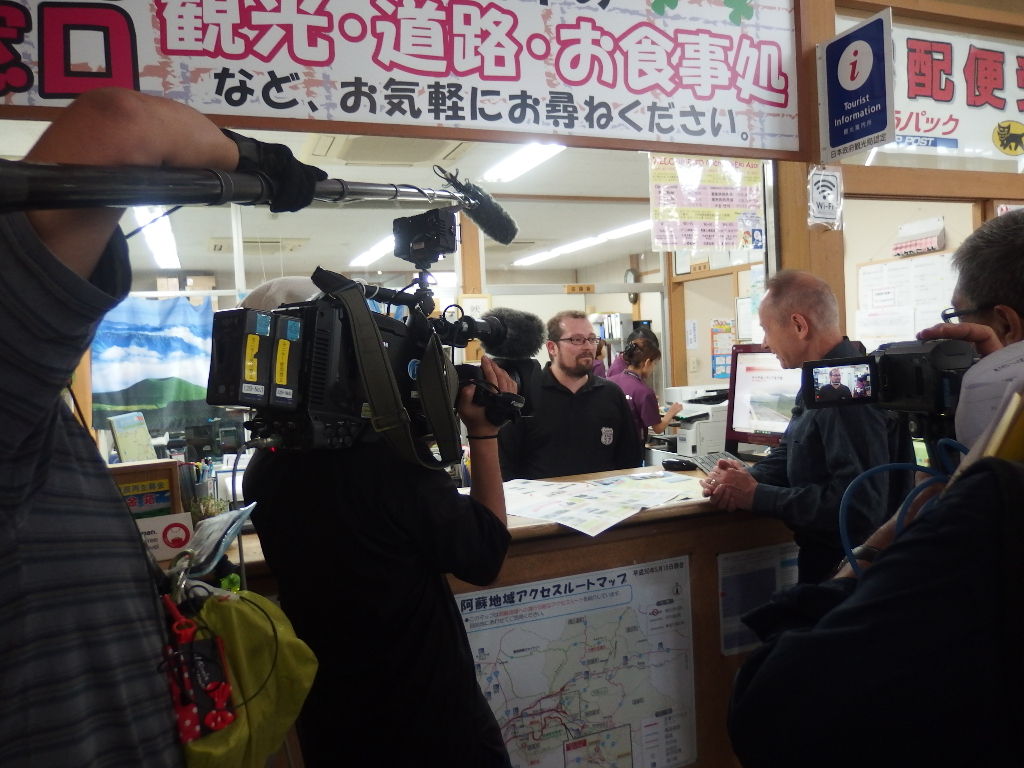 The reason he came to visit us today is for a TV show called Japanology. This episode will explain what a Michi no Eki and it is planned to be about half an hour long. Michi no Eki Aso will of course be featuring on this episode and you'll be able to watch a short interview of our manager and of myself.
Il est donc venu nous rendre visite pour une émission télé qui s'appelle Japanology. Ce prochain épisode qui devrait durer environ une petite demie heure, présentera ce que sont les Michi no Eki. Bien entendu, Michi no Eki Aso fera une apparition au cours de cet émission et vous pourrez même y retrouver une interview de notre manager et de moi même.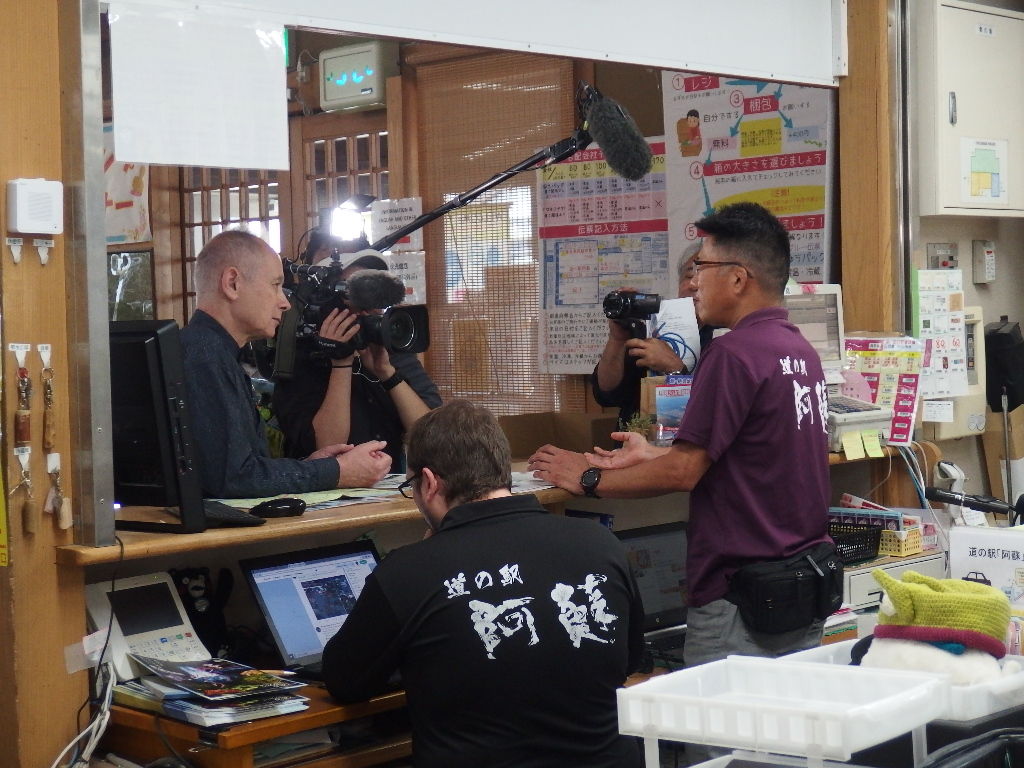 It will air on NHK world in English so you will be able to watch from everywhere in the world. You just need to go on their website and watch their live streaming. According to your country it is also possible that you can watch NHK world directly on your TV. It will be aired on NHK world on the 31th of July at 23:30 (Japanese time) and on the 1st of August at 05:30 (Japanese time). So if you want to more about the Michi no Eki in Japan, do not miss it!
Il vous sera possible de regarder cette émission en anglais et à travers le monde sur la chaîne NHK world. Il vous suffit de vous rendre sur leur site web et de regarder le stream de la chaîne en live. Selon votre pays il est aussi possible que vous ayez un accès à cette chaîne directement sur votre téléviseur. La diffusion est prévue pour le 31 juillet à 23h30 (heure japonaise) et une rediffusion est également prévue le lendemain à 05h30 (heure japonaise) du matin. Si vous désirez en savoir plus sur les Michi no Eki Aso ne ratez pas ces dates!
タグ :