Hello everyone!
Bonjour!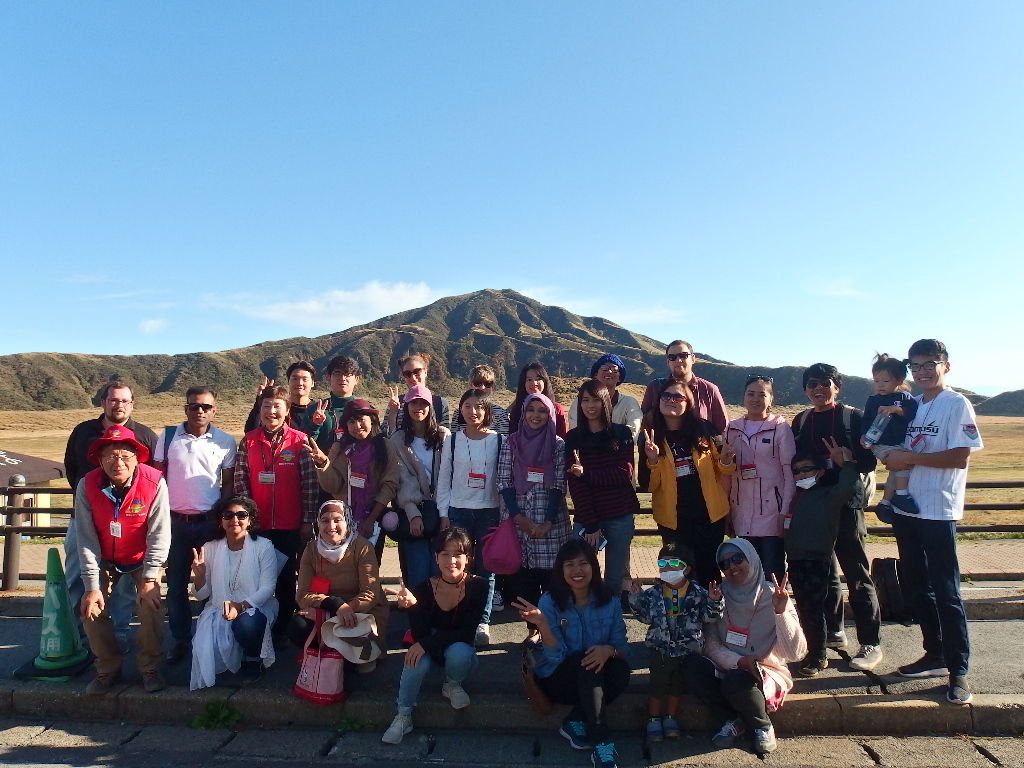 This last Sunday an all new event was held by Michi no Eki Aso to promote our beautiful area. We invited 25 students living in Kumamoto and coming from 14 different countries to discover some of the best spots you can find in Aso city. This event was what we can call a pretty popular event because we had to choose the 25 participants among almost 80 students who applied to be part of our little trip. Here is the list of the countries the participants countries: Myanmar, Mongolia, Irak, Switzerland, Turkey, Indonesia, Philippines, Kyrgyzstan, China, Taiwan, Korea, Malaysia, Bangladesh and Thailand.
Dimanche dernier se tenait le Let's discover Aso tour organisé par Michi no Eki Aso pour faire la promotion de notre région. Nous avons invité 25 étudiants vivant à Kumamoto et venant de 14 pays différents à découvrir quelques uns des meilleurs endroits de la ville d'Aso. On peut dire que cette sortie organisée est plutôt populaire car pas moins de 80 demandes de participation nous sont parvenues. Voici d'ailleurs la liste des pays d'où viennent les participants sélectionnés: Birmanie, Mongolies, Irak, Suisse, Turquie, Indonésie, Philippines, Kirghizistan, Chine, Taiwan, Corée, Malaisie, Bangladesh et Thaïlande.

We started our trip from Kumamoto city in front of Kumamoto International Center where myself and a few other students were able to climb on the bus we reserved for the day. The rest of the participants were waiting for us at Kumamoto University. I'd like to thank Kumamoto University for letting us use the parking inside the university (which was very convenient) and Kumamoto International center for letting us use the bus stop in front of the building but also for all their help in organizing this trip.
Moi même et quelques étudiants sommes partis de bon matin depuis le centre international de Kumamoto où nous attendait le bus que nous avions réservé pour la journée. Le reste des participants nous attendaient à l'université de Kumamoto. J'aimerais d'ailleurs remercier l'université de nous avoir permis de garer notre bus dans son enceinte (ce qui fut bien pratique) ainsi que le centre international de Kumamoto qui en plus de nous laisser utiliser l'arrêt de bus en face de son bâtiment, nous as aussi beaucoup aidé pour l'organisation de cette excursion.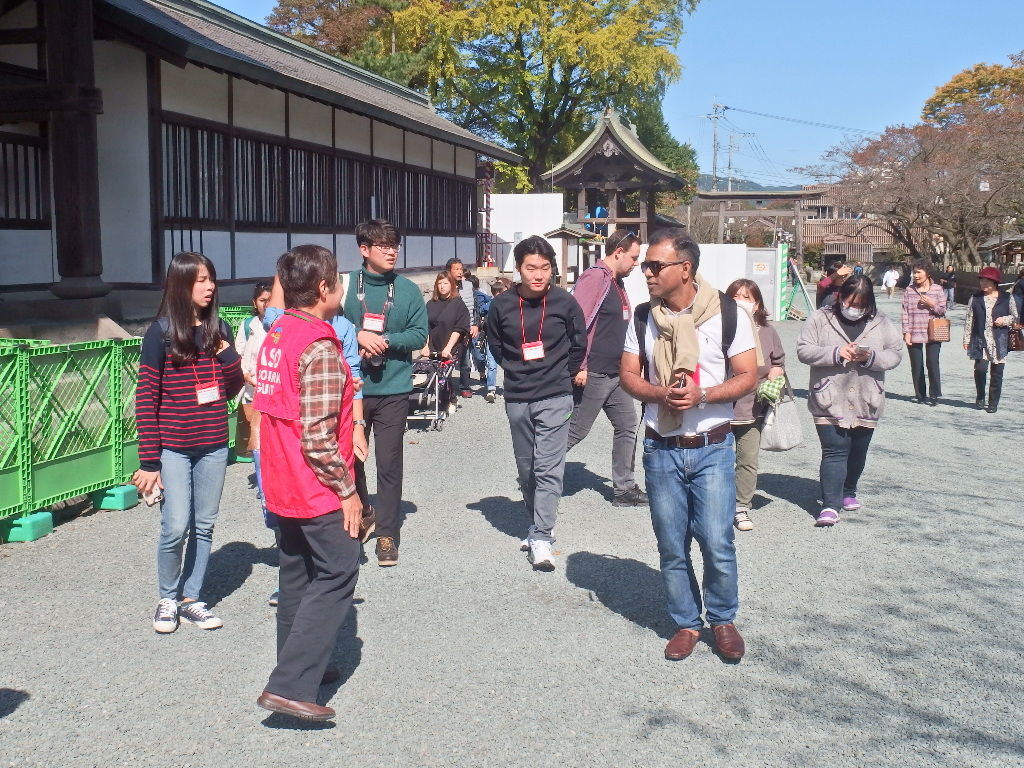 Our first stop of the day was at Aso Shrine where Aso Unesco Global Geopark geoguides were waiting for our arrival. They were our guides for the day and they did a pretty good job if I believe the feedback from our participants. For some participants, it was their first time visiting a Japanese shrine! They were able to experience how to purify yourself before entering the shrine, they learn about the shrine history, the festivals that are held here and also about the damages due to Kumamoto earthquake. Then we went for a walk at Monzenmachi, the shopping street which is situated just next to the shrine. There Iwanaga-san the owner of the Tanbaya shop (
http://asoshokokai.or.jp/stamprally/posting/%E4%B8%B9%E6%B3%A2%E5%B1%8B/
) talked to us about the importance of the abundant underground water for the area.
Les geoguides du Geoparc mondial Unesco d'Aso nous attendaient a notre premier arrêt au sanctuaire d'Aso. Ils étaient nos guides pour la journée et je dois dire qu'ils ont fait du très bon travail surtout si j'en crois les retours des participants. Pour certains des participants, ce fut leur première visite d'un sanctuaire Shinto! Apres s'être purifiée à l'entrée, ils ont pu apprendre de nombreuses choses concernant l'histoire de ce sanctuaire, ces festivals et aussi concernant les dommages subis lors du tremblement de terre de Kumamoto. Puis nous nous sommes dirigés vers Monzenmachi, la rue commerçante partant du sanctuaire. C'est ici que monsieur Iwanaga, le propriétaire du Tanbaya (
http://asoshokokai.or.jp/stamprally/posting/%E4%B8%B9%E6%B3%A2%E5%B1%8B/
) nous a parlé de l'importance de l'abondance de l'eau souterraine pour la région.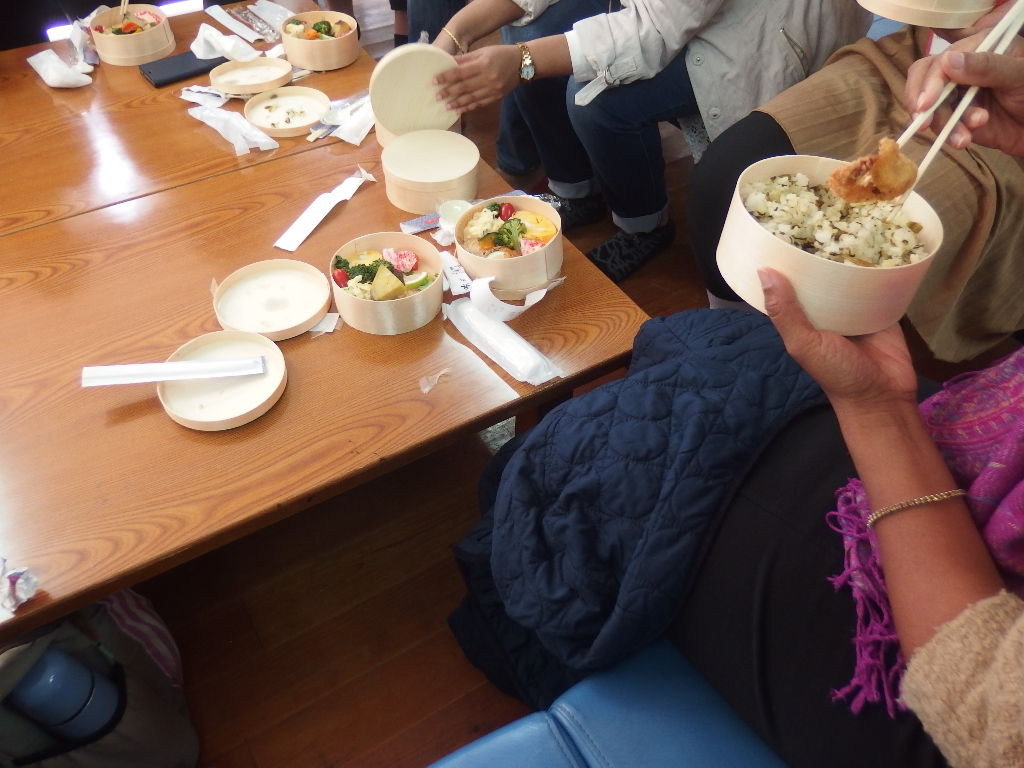 It was already noon and we went to eat at the local community center. The lunchboxes we were able to eat were made by Kazenone a pension situated in Uchinomaki (
https://bokunooyado.com/
). And it was really good! It was a handmade lunch box with Takana Meshi (rice with Takana pickles), potato salad, fried fish, fried shrimp etc... The students seemed very happy with this lunch box and we got nothing but great comments about it on the questionnaire the participants filled on their way back to Kumamoto.
Il était déjà midi et nous nous sommes rendus au centre local pour manger. Nous avons pu manger tranquillement un panier repas fait main par la pension Kazenone qui se trouve dans le quartier de Uchinomaki (
https://bokunooyado.com/
). Et c'était vraiment bon! Takana Meshi (riz et takana en saumure), salade de pomme de terre, poisson frit, crevette pannées... Les participants étaient très satisfait de ce repas et nous n'avons eu que des retours positifs sur le questionnaire qu'ils ont rempli sur la route de Kumamoto.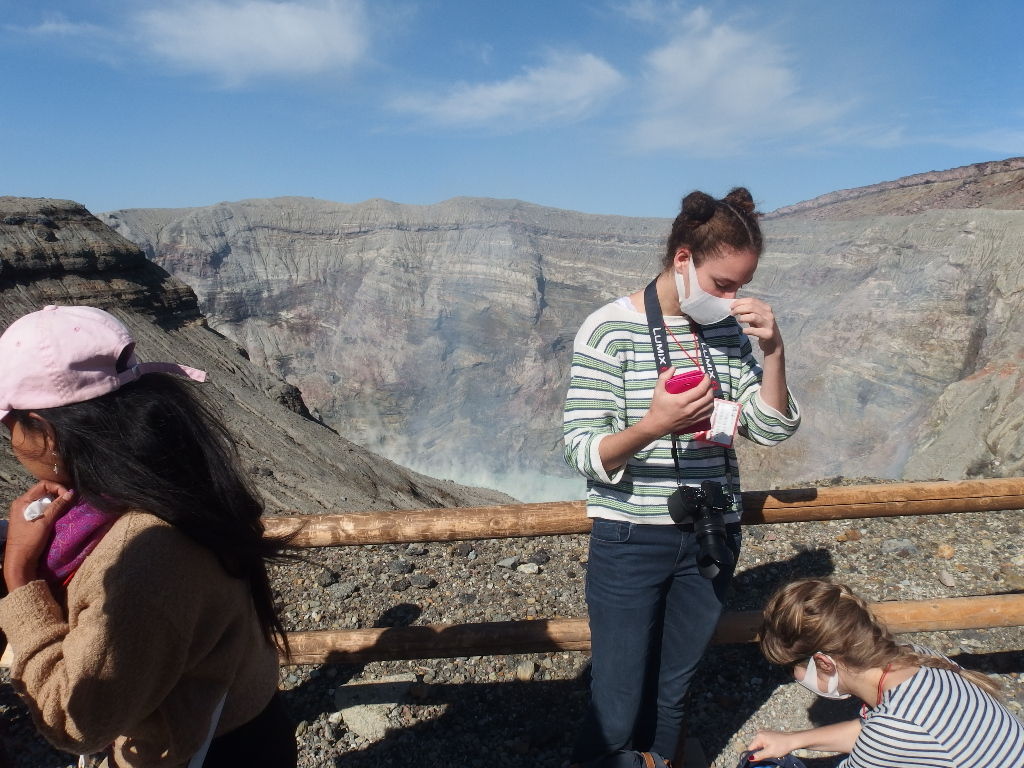 A trip to Mount Aso wouldn't be perfect without a visit to Mount Aso. And that's exactly where we spent the afternoon. I was worried the last few days previous to the event because the weather wasn't that great and access to the crater was restricted regularly. But we were very lucky because the weather was great and the crater was open all the time we needed! The view on the acid lake inside the crater was great and everyone was taking as many pictures as possible. The participants were so into it that it was even difficult to keep trace of them. The geoguides them took everyone to Sunasenri to explain as much as they can about this famous volcano. Before going back to Kumamoto, we made a last stop at Kusasenri where the students were able to enjoy some free time walking around and enjoying the scenery!
Que serait un voyage sur Aso sans une visite au mont Aso? C'est exactement là que nous avons passé l'après midi. Les jours précédents, j'étais plutôt inquiet car le temps n'était pas ce qu'il y a de mieux et surtout l'accès au cratère était souvent impossible à cause des émissions de gaz volcanique. Mais nous avons eu beaucoup de chance car le temps était juste parfait et l'accès au cratère n'a pas posé le moindre problème. La vue sur le lac acide à l'intérieur du cratère était magnifique et tout le monde prenait autant de photo que possible. Les étudiants étaient si excités qu'il était même difficile de tous les retrouver. Les geoguides les ont ensuite guider vers Sunasenri afin de leur donner de plus amples informations sur ce fameux volcan. Avant de rentrer vers Kumamoto nous avons fait un dernier arrêt a Kusasenri ou les étudiants ont pu profiter de temps libre pour marcher aux alentours et profiter du paysage!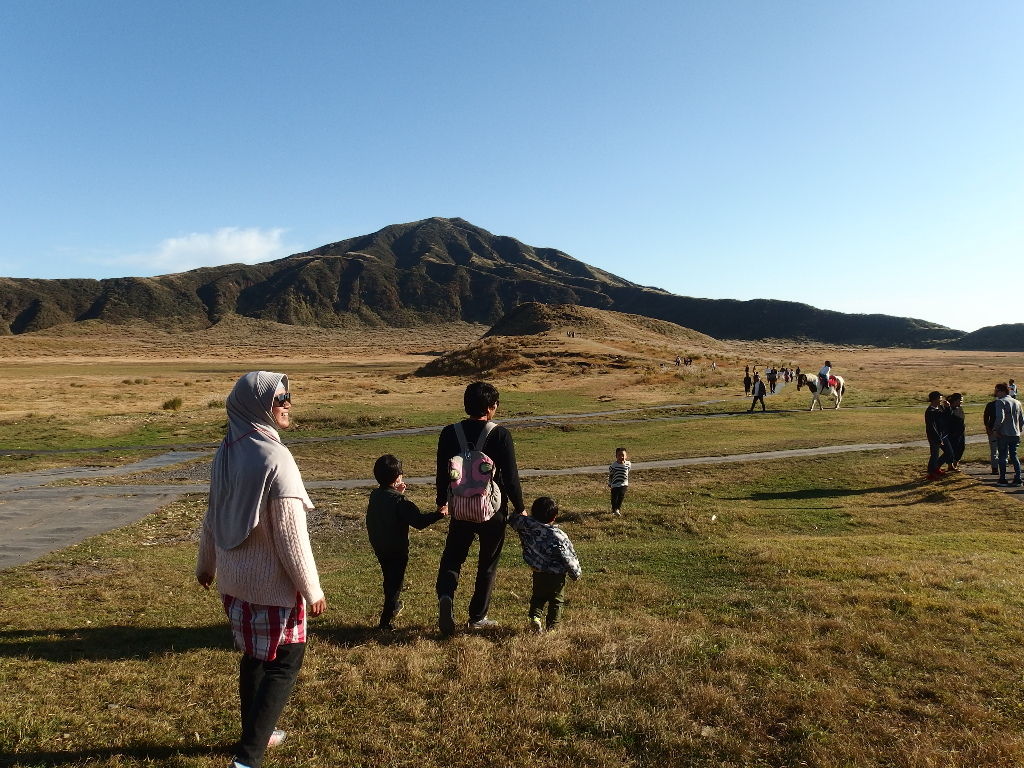 In the end everything went fine according to the plans we made and we really spent a great day. The event was a success and I think everyone enjoyed this tour. We'll try to organize another of this event next year too even if in a different way. Hope you enjoy the pictures and see you soon in aso!
Tout se déroula donc comme prévu et nous avons pu passer une très bonne journée. Cette excursion fut donc un succès et étant donné les retours les participants semblent avoir été très satisfait. Nous allons essayer d'organiser un autre événement du genre pour l'an prochain mais peut être sous une autre forme. A bientôt sur Aso!

タグ :